Glenleigh's Legacy Kennels is a bichon frise breeder in Southern Utah with some delightful award-winning dogs. If you want to learn about bichons frises, find a puppy to adopt, or just enjoy some adorable photos, you've come to the right place! Please relax and take a few minutes to look around the web site. If you have any questions, don't hesitate to ask. (Just choose "Contact" in the menu above.) If you want to share this site with someone and you're not sure how to spell Glenleigh, just tell them to visit PuffyDogs.com. (That address will bring them right here.) Thank you!
Champion Dogs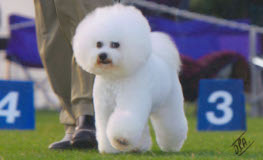 This is Mira, one of the champion bichons frises at Glenleigh's Legacy Kennels. She won 1
st
place in the specials campaign in 2005, defeating 10,655 dogs in all-breed. Way to go, Mira!
See our bichons

»
Bichon Frise Info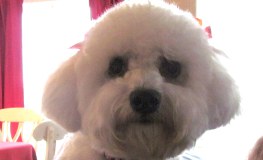 Would you like to learn more about bichons frises? There's a lot of great information available if you know where to look.
Read about the breed

»
Questions?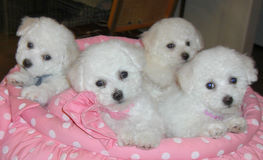 I have no planned breedings in the foreseeable future, but I would be happy to answer questions about the breed.
Contact

»